Donate now to support the LLIFLE projects.
Your support is critical to our success.
Since 4 Aug 2013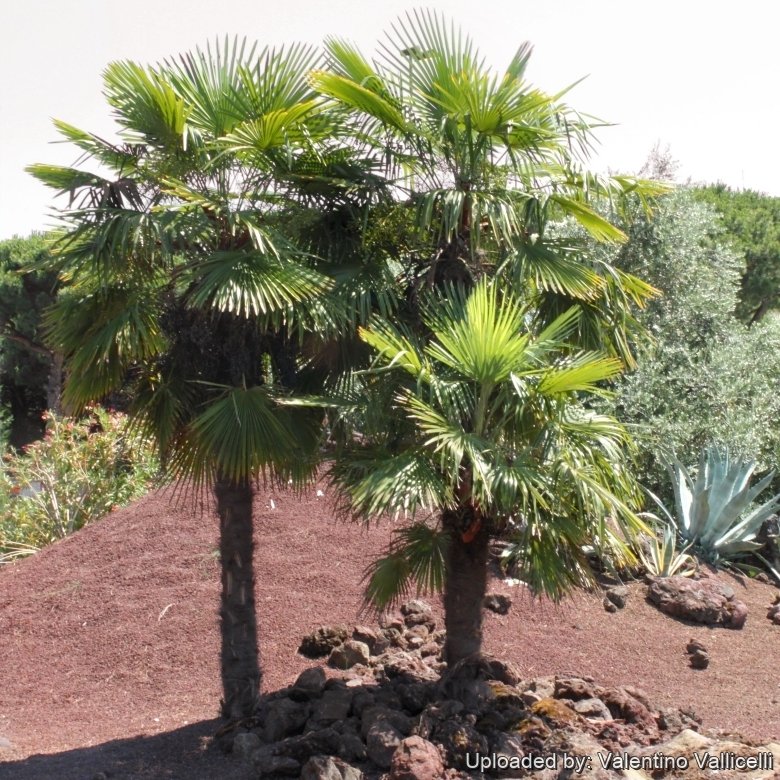 Photo taken at Cervia, Emilia Romagna, Italy.
Origin and Habitat: Central China (Hubei southwards), Taiwan and the Chusan Islands, south to northern Burma and northern India. Trachycatpus fortunei has been cultivated in China and Japan for thousands of years. The extent of this cultivation means that the exact natural range of the species is uncertain.
Altitude: 100–2400 m above sea level.
Habitat: Forests in temperate and subtropical mountainous areas, despite strong shade tolerance in juveniles, the demand for light in the flowering stage, and the small maximum height suggest that the palm will not dominate inside the natural forests. However they may reproduce in abandoned coppice forest, disturbed forest (canopy die-back), forest edges and cliff side forests, and the juveniles can persist for many years under a closed canopy.
Synonyms:
See all synonyms of Trachycarpus fortunei
Accepted name in llifle Database:
Trachycarpus fortunei
(Hook.) H.Wendl.
Bull. Soc. Bot. France 8: 429. 1862 [1861 publ. 1862]
Synonymy: 4
Common Names include:
ENGLISH:
, Chusan Palm, Hemp Palm, Windmill Palm, Chinese Windmill Palm, Chinese Hemp Palm
BASQUE (Euskara):
Kalamu-palmondoa, Txinako palmondoa
BELARUSIAN (Беларуская):
Траxікарпус Форчуна
CATALAN (Català):
Palmera excelsa
CHINESE (中文):
棕榈, , Shan zong, Zong lü, Zong shu
DANISH (Dansk):
Chusanpalme, Hørpalme
FRENCH (Français):
Chanvre de Chine, Palmier chanvre, Palmier de Chine, Palmier Moulin, Palmier de Chusan.
GALICIAN (Galego):
Palmeira de abano
GERMAN (Deutsch):
Palmvezel, Hochstämmige Hanfpalme, Echte Hanfpalme, Chinesische Hanfpalme
HUNGARIAN (Magyar):
Kínai kenderpálma
ITALIAN (Italiano):
Canapa cinese, Palma di Chusan, Palma cinese, Palma di Fortune
NORWEGIAN (Bokmål):
Vindmøllepalme
PAKISTAN:
Shuro, Wajuro, Shuro
POLISH ( Polski):
Szorstkowiec Fortunego
PORTUGUESE (Português):
Cânhamo da China, Palmera de cáñamo
RUSSIAN (Русский):
Траxикарпус Форчуна, Khamerops vysokii (as C. excelsa), Trakhikarpus forchuna, Trakhikarpus forguna
SLOVAK (Slovenčina):
Trachykarp konopný
SPANISH (Español):
Palmito elevado, Traquicarro, Palmera de molino de viento, Palmera china de abanico, Palma de jardín, Palmera excelsa, Palma de fortune
SWEDISH (Svenska):
Väderkvarnspalm
UPPER SORBIAN (Hornjoserbsce):
Chinska konopjowa palma
VIETNAMESE (Tiếng Việt):
cọ núi, cọ gai dầu, cọ Chu sơn
Description: Trachycarpus fortuneiSN|27217]] is a medium sized fan palm and one of the hardiest palms tolerating frost and snow. Due to its wide range of origin it show marked variability in form, hardiness, and growth rate.
Trunk: Always solitary, rather than clump-forming, rather slender 6-20 m tall and 15-35 cm diameter, typically a bit narrower at the base than at the top, very rough with the persistent leaf bases clasping the stem as layers of coarse fibrous gray or brown material that become matted with age. In older individuals the fiber sloughs away to reveal a smooth ringed surface.
Crown: Symmetrical, about 2.5-3 m wide. Specimens grown in full sun and/or under poor conditions may have much smaller, more compact crowns.
Leaves: 140-190 cm long light to dark green palmate leaves that are lighter, almost silvery (glaucous), on the underside. Petiole, thin, flattened, 60-100 cm long, bare except for two rows of small spines. Blade round segmented about halfway; leaflets numerous up to 90 cm long, it is a somewhat variable plant, especially as regards its general appearance and some specimens are to be seen with leaf segments having straight and others having drooping tips.
Inflorescence: Yellow branched panicles 60-100 cm long, from a packetlike bud among the lower leaves.
Flowers: Yellow (male) and greenish (female), about 2-4 mm across. Male and female flowers are usually borne on separate plants (so this palm is said to be dioecious), but occasionally it occurs that a male plant of Trachycarpus fortuneiSN|27217]] besides the usual spadices produces also a few other spadices which carry really hermaphroditic flowers. The hermaphroditic and completely fertile flowers are almost exactly like the male flowers, but are a little larger and with the carpels well evolute, the latter about as long as the filaments, furnished with a ring of silvery hairs all round.
Blooming season: Late winter and early spring
Fruit: Yellow to blue-black, reniform (kidney-shaped) drupe 10-13 mm long, ripening in late summer to mid autumn.
Subspecies, varieties, forms and cultivars of plants belonging to the Trachycarpus fortunei group
Trachycarpus fortunei

(Hook.) H.Wendl.

Trachycarpus wagnerianus

Becc.

: formerly sometimes treated as a separate species it is a small-leafed variant selected in cultivation in China and Japan. The leaves are held in a more compact crown.
Notes: Although not the northernmost naturally occurring palm in the world (Chamaerops humilisSN|24321]] grows further north in the Mediterranean region, and Rhapidophyllum hystrix and some Sabal species further north on the Atlantic coast of North America), Trachycarpus fortuneiSN|27217]] is one of the hardiest, as it grows at much higher altitudes, up to 2,400 m in the mountains of southern China. This brings it into a climate not only with cold winters, but also cool, moist summers; while Rhapidophyllum may possibly tolerate slightly lower temperatures in winter, it needs much greater summer heat to grow successfully.
Bibliography: Major references and further lectures
1) MobileReference "The Illustrated Encyclopedia of Trees and Shrubs: An Essential Guide to Trees and Shrubs of the World" MobileReference, 15/Dec/2009
2) Philip McMillan Browse (ed.), P.D.A.McMillan Browse "Gardening on the Edge: Drawing on the Cornwall Experience" Alison Hodge Publishers, 01/Jan/2004. Page 98-99
3) Christopher Holliday "Sharp Gardening" frances lincoln ltd, 01/mar/2005. Page 32.
4) Huxley, A., ed. "New RHS Dictionary of Gardening" 3: 443–448, 4: 491. Macmillan 1992
5)"Polar Palms: The Polar Palms of Bulgaria"
6) Bean, W. J. "Trees and Shrubs Hardy in the British Isles" 8th ed., vol. 4. John Murray 1980
7) Beccari, Odoardo: 1905 "Le Palme del Genere Trachycarpus", Webbia; I
8) Beccari, Odoardo: 1920 "Recens Palme Vecchio Mondo", Webbia; V
9) Beccari, Odoardo: 1931 "Asiatic Palms, Corypheae", Annals of the Royal Bot. Gard. Calcutta; 13
10) Martius, Carl Friedrich Philipp von. "Historia Naturalis Palmarum," volume 3 1850
11) Kimnach, M. "The Species of Trachycarpus." Principes 21: 155-160 1977
12) Meerow, A. W. "Betrock's Cold Hardy Palms." Betrock Information Systems, Inc., Hollywood, Florida.(2005). 2005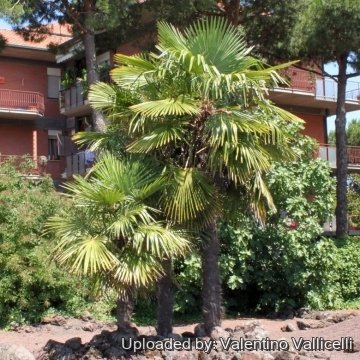 Photo taken at Cervia, Emilia Romagna, Italy.
Photo by: Valentino Vallicelli
Trachycarpus fortunei
Photo by: Valentino Vallicelli
Cultivation and Propagation: Trachycarpus fortuneiSN|27217]] is a very popular, inexpensive and readily available palm that is grown in temperate climates for its extraordinary ability to tolerate cold and widely planted in gardens and parks. It is one of the hardier palms adapted to a temperate climate. Some reports have claimed survival of temperatures as low as −27°C, although more realistic estimates are approximately −15° to −21°C .
Growth Rate: Slow-growing to medium-growing. It will take at least five years to grow from a 30 cm specimen to 2 m, but relatively fast growing if cared for.
Soil: It is adaptable to many kinds of well drained soils, and can grow on poor and rocky soils. It will survive in almost anything except perpetually soggy conditions.
Transplantation: It is an easy plant to transplant.
Fertilization: Need a perfect fertilizer diet including all micro nutrients and trace elements or slow release fertilizer applied during the growing season, or according to package directions, using a fertilizer specifically formulated for palms.
Water Requirements: It may tolerates low levels of humidity, but watering it when dry will speed up growth rate . When supplied with adequate moisture and fertilizer it is also fairly fast growing. This palm is amazingly drought tolerant once established although plants will appear stunted and growth rate dramatically slowed if regular watering is withheld. It dislikes soggy soils.
Light: Although it looks like a sun-lover, it will tolerate partial shade with some direct sunlight. It will survive in rather heavy shade but "stretches" to lose its compact shape. It produces flowers and fruit only in sunny positions.
Aerosol salt tolerance: It is moderately salt tolerant and may be grown near the sea if given some protection (behind a dune, building, etc.), but leaves are prone to tearing and shredding, so although it is seen in mild seaside gardens, it cannot be grown on a blustery seafront and does better inland then it does on the coast.
Wind resistance: It requires shelter from high winds.
Hardiness: USDA Zones (6b-)7 to 11. The greatest reported cold tolerance is -27.5 °C, survived in Bulgaria with little or no damage; more commonly lower tolerance limits of 18 °C to -20 °C are cited for mature plants. Young plants are less hardy, and can by damaged by only -8 to -12° C. Its tolerance of cool summers makes it highly valued by palm enthusiasts as the palm that can be cultivated the furthest north in the world, being grown successfully in such cool and damp but relatively winter-mild locales as Scotland and the panhandle of Alaska. It is commonly grown in gardens in the British Isles, in Continental Europe (Germany, Netherlands, Belgium, Denmark), the Pacific Northwestern United States, and coastal regions of the Canadian province of British Columbia, as well as extreme south locations, such as Tasmania. It does not however grow well in hot climates. In winter it prefers cool dry conditions but will also grow in tropical or semi-tropical place.
Roots: Usually not a problem
Maintenance: For the healthiest and most attractive plant, keep the palm pruned. As the old fronds die, these should be trimmed off and the leaf bases allowed to dry out, but do not prune if the frond still has some green colour. Palms recycle nutrients from dead or dying fronds and use them for healthier fronds.
Uses: Since its introduction by Robert Fortune in 1849, it has proved to be one of the hardiest palms and is used in gardening and landscaping in many parts of the world where it will survive prolonged periods below freezing point. In Europe it is frequently seen in country house gardens planted in the nineteenth century. It was a dream plant for Victorians who favoured the subtropical style of gardening. Its leaves may be big but the dense upright habit makes it a useful plant for a confined space, which perhaps explains why it crops up frequently in urban courtyard gardens. It is very attractive planted in groves and groupings especially when plants of different heights are staggered in irregular patterns (plant the tallest palms in centre of the groups and shorter ones at the edges). It is also excellent in containers and urns plant.
Traditional uses: Its coarse but very strong leaf sheath fibre were used in China and Japan used for making ropes, sacks, and other coarse cloth where great strength is important. The husky, fibrous trunk has also been used, as an ideal habitat for epiphytes (bromeliads and tillandsias), and the fibre itself is seen as a choice nest-building material by birds.
**Pest and disease: Long-term health usually not affected by pests or insects.
Propagation:*** By seed that germinate in 8 to 12 weeks without a lot of fuss.