Donate now to support the LLIFLE projects.
Your support is critical to our success.
Since 4 Aug 2013
sponsored link
Accepted Scientific Name: Lithops hookeri
Möller's deutsche gärtner-zeitung 1928, xliii. 46.
Lithops hookeri var. subfenestrata C156 5 km N of Prieska, South Africa Photo by: Valentino Vallicelli
Origin and Habitat: 5 km N of Prieska, South Africa.
Habitat: Lithops are an expression of particular niches, L. hookeri var. subfenestrata grows in a rocky ground among the equally shiny dark and implausibly shiny ironstone.
Synonyms:
See all synonyms of Lithops hookeri
Common Names include:
ENGLISH:
Stone Plant, Living Stone
ITALIAN (Italiano):
Pianta Sasso
Description: L. hookeri is a medium to very large species, up to 46 X 35 mm, usually about 30 X 23 mm. with up to 10 or more heads (mostly 2-4)
Bodies (paired leaves): Obconical, truncate, top surface flat to slightly convex. The face is elliptical more or less equal. The fissure is shallow 3-7 mm, the lobes are conjunct. This species is characterized by an obscure network of simple and forked groves and lines, and numerous irregular small island enclosed by groves. Margins are irregularly incise with narrow lines tapering out of the grows. This species is quite variable and the colours and face pattern varies considerably in plant from different provenance.
L. hookeri comprises several more or less intergrading and distinct variety.
Subspecies, varieties, forms and cultivars of plants belonging to the Lithops hookeri group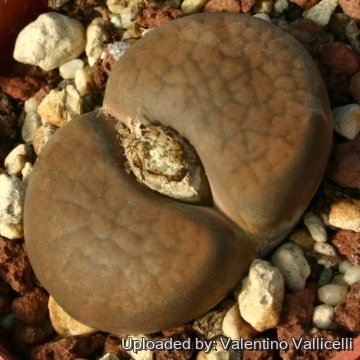 Lithops hookeri var. subfenestrata C156 5 km N of Prieska, South Africa
Photo by: Valentino Vallicelli
Send a photo of this plant.
The gallery now contains thousands of pictures, however it is possible to do even more. We are, of course, seeking photos of species not yet shown in the gallery but not only that, we are also looking for better pictures than those already present.
Read More...
Cultivation and Propagation: They need an open mineral, fast draining mix and the maximum amount of light you are able to give them.
The basic cultivation routine is: Stop watering after flowering. Start watering after the old leaves are completely dry (usually late March or Early April). Water freely during the growing season, soak the compost fully but allow it to dry out between waterings. Some growers fertilize frequently, some hardly ever. Keep them dry during the winter. Nearly all problems occur as a result of overwatering and poor ventilation, especially when weather conditions are dull and cool or very humid.
Remarks: After flowering in the autumn and extending through winter season the plant doesn't need watering, but they will still be growing, the new bodies will be increasing in size extracting water from the outer succulent leaves, allowing them to shrivel away. In fact the plant in this time extracts water and nutrient stored in the outer succulent leaves, allowing them to dehydrate relocating the water to the rest of the plant and to the new leaves that form during this period until the old leaves are reduced to nothing more than "thin papery shells".